By: Madelyn Gosselin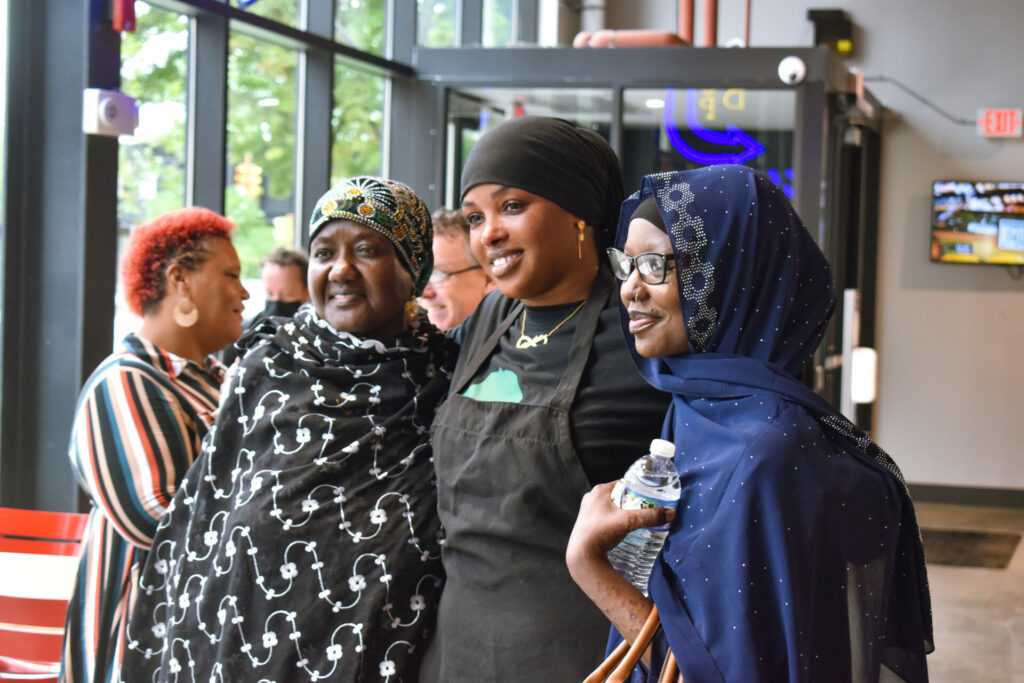 Visit Salt City Market's Women-Owned Restaurants and Female-Led Career Advancement Seminars This March for Women's History Month!
"A space for Syracuse to show itself off in all of its culture, glory,richness and grit. A space for people to build generational wealth doing what they love. A space where everyone feels a sense of belonging, ownership and civic pride."
If you want to expand your palate or support women-owned businesses this Women's History Month, Salt City Market is the best place to start! Located on S. Salina Street, Salt City Market has 10+ vendors whose menus vary vastly by regional and international cuisine.
At Salt City Market, our mission is to build economic empowerment for local Syracuse residents– giving a central location for our vendors to share their culinary gifts with the greater Syracuse area. This month, we will spotlight our women-owned vendors to celebrate Women's History Month!

Cake Bar
Cake Bar celebrates the fusion between owner Duyen Nguyen's Vietnamese culture and her American-learned culinary degree. Baking is in Duyen's DNA– her mother owned a popular bakery in Vietnam. Cake Bar serves delicious artistic cakes, whole and by the slice, and various other pastries and desserts. Flavors vary from Biscoff to PB&J to taro! Cake Bar delivers via Doordash and Grubhub to meet your sweet tooth halfway.
Erma's Island
Erma's Island is named for owner Latoya Rick's maternal grandmother, who Latoya says "planted the seed for a love of cooking and culinary arts deep within her soul." Erma's Island serves fresh, authentic Jamaican cuisine from their eatery within Salt City Market: Jerk chicken and pork and braised oxtails are community favorites.
Firecracker Thai Kitchen
A Syracuse native, Firecracker's owner, and head chef, Sara Tong-Ngork, got her start at the well-loved Syracuse restaurant Lemon Grass. Firecracker Thai Kitchen takes an experimental approach to Thai food led by chef Sara and her love for exotic ingredients and spices! Sara says she aims to break down barriers with her take on street food and Thai fusion.
Habiba's Ethiopian Kitchen
Habiba's Ethiopian Kitchen is named after the restaurant's owner and head chef, Habiba Boru. Habiba, born in Ethiopia, says she cooked alongside her mother for as long as she can remember, who she says is still her best friend today. Habiba's passion for cooking only grew, and now she serves a robust menu of traditional Ethiopian food and drinks, including an extensive array of vegetarian options!
Mamma Hai
Ngoc Huynh, owner and head chef at Mamma Hai, explains that "Mamma Hai is a term of endearment. A person who cooks for you when you're hungry or gives you a place to stay when you're stranded." Ngoc's passion for cooking came from her grandmother, mother, and aunts. Mamma Hai serves the best Banh Mi in Syracuse alongside a carefully curated menu of other traditional Vietnamese sandwiches and noodle bowls.
Miss Prissy's
Miss Prissy's owner Dreamer Glen says that Miss Prissy's makes food that is "good for the soul." Miss Prissy's soul food features Mac and Cheese, Honey Hennessy Chicken Wings, and Fried Haddock. Dreamer says her grandmother taught her about cooking for the soul. Miss Prissy's shares its delicious menu at Salt City Market and catering events through its website.
Juice + Flowers
Juice + Flowers comes to Salt City Market from the brilliance of Farm Girl Juicery's Abigail Henson, who many Syracusians may know and love already. Abigail is a Natural Gourmet Chef known for her fresh-pressed juices, smoothies, and homemade soup that she sells at Farmgirl's Salt City Market location, Juice + Flowers. Abigail's stand at the market is a staple, and her juice has become a morning ritual for many. Juice + Flowers often hosts drop-in lunches at Salt City that highlight more of Farmgirl's gourmet creations!
Women's History Month Events:
Lunch by Farm Girl Juicery: at Salt City Market every Wednesday in March, 11AM to 3PM! Dirt Burgers, Big Ass Salads, Grain Bowls, & Local Veggies. Pre-order on the Salt City Market events page
Working Lunch with Kelly Bargabos: Transform your Leadership: learn useful information, practical advice and exercises, relevant and powerful tools that will transform your leadership! March 7th, 14th, and 28th from 11:30AM-1:30PM. Sign up on the Salt City Market events page