salt city market mural rfp
We're looking for artists to design and execute a mural that celebrates Syracuse as a culturally rich and diverse community.
INTRODUCTION TO THE PROJECT
The Syracuse Urban Partnership (SYRUP), owners of the Salt City Market, is seeking proposals from artists with experience in mural installation to design and execute a large-scale mural that both celebrates Syracuse as a culturally rich and diverse community.

The objective of this project is to create a piece of art that is vibrant, captivating, and encourages people to admire the work for both its beauty and substance. In particular we wish to highlight the Salt City Market as a place where all people are welcome, and where we can set our sights on the future of Syracuse with a vision full of optimism, hope, and progress. Artists submitting proposals should consider how they might engage with local community residents, vendors of the Salt City Market, and staff who work at Salt City Market either in the final design process or in related programming in regard to the artwork. The selected artist will also have several
opportunities to participate in facilitated focus groups with community members and food vendors of the Salt City Market to inform their final piece.

A section of the wall, closest to Salina Street, currently has a large red heart painted on it that has been there for over 30 years. It has become a recognizable symbol in Syracuse that many people have taken their pictures in front of. As a result, we wish to ensure that the existing heart is somehow incorporated into the new mural. What that means is left to the artist to decide.
MURAL LOCATION AND SPECIFICATIONS
The specific wall is located at 484 South Salina Street, facing south, with high
visibility from the Salt City Market's parking lot, from the patio area (which has dining space for up to 100 people), from inside the bar/coffeeshop, and from South Salina Street itself. This section of South Salina Street is heavily trafficked by car, bus and pedestrians. It sits at the intersection of downtown, the southside, the westside, and our hotel/convention district. Because of this unique location, we see how this
mural could likely become the unofficial "entrance" into Downtown Syracuse from the south. The mural will be visible by pedestrians and the design can incorporate any or all the available surface areas of the walls or a portion of the surface areas.
The façade of the building is brick and will be patched and primed prior to the art being installed (being done by another entity, not the artist). The wall is approximately 34 feet tall and 110 feet long and has several windows in the wall (pictures below). The artist is not expected to paint the entirety of the wall, but rather have a concept that stretches across the length of the wall at differing heights. Due to the large scale of the building, it is imperative that the artist consider the scale of the different components of their mural in relation to the size of the individual and the surrounding environment.
eligibility
This call is open to all US-based artists. Preference will be given to artists from (or with ties to) Central New York and New York State. Candidates must be professional artists, designers, or fabricators or partnered with professional artists, designers, or fabricators; eligible to work in the United States; and age 18 and older. The artist must be available to oversee the installation of the mural. Teams or collectives are also eligible to apply.
proposal requirements
The following is required for consideration as a completed proposal:
Contact information: Name, address, telephone number, email address
Resume/CV for lead artist(s)
Written narrative describing your artistic vision and proposal (No longer than 2 single-spaced pages)
Sketches to explain your vision (preferably both as standalone artwork and superimposed on the wall). Below is a full image of the wall as well as a worksheet (please note the worksheet is not exactly to scale)
Proposed installation timeline
Estimated budget
Optional additional support materials (i.e. news article on past work). Also, should the artist envision incorporating community engagement in the design/installation process, we would welcome those ideas/suggestions as our desire is to use the mural process for public engagement to the extent possible.
Examples of past work, either attached as a PDF or with a shared web address to a digital portfolio (Maximum of 5)
References (Minimum of 2)
deadline
All proposals must be submitted electronically by Friday, June 3, 2022 at 5:00 PM Eastern. Materials must be submitted via email to the attention of Maarten Jacobs, Executive Director (mjacobs@allynfoundation.org) as a PDF. A confirmation email will be sent to all applicants. If you do not receive a confirmation email within 24 hours of the deadline, please contact Maarten Jacobs via email at mjacobs@allynfoundation.org or by phone at 315-480-7678.
budget
Recognizing that we are flexible in consideration of the size/scope of the façade treatment area (given that there is so much surface area that does not all need to be incorporated into the mural), it follows that the budget may vary widely. A total of $35,000 to 75,000 has been identified for the purposes of this project. Artist
will be responsible for their own travel costs, materials (including scaffolding/lifts), and personal liability insurance. SYRUP will be responsible for the treatment of the surface prior to installation.
selection process
A 10-person, diverse, representative committee has been established and will review all completed proposals. Committee members include Salt City Market staff and board leadership, a food vendor from the Salt City Market, a staff member from the Allyn Family Foundation, a local art council representative, and two community members. We will select up to three semifinalists to interview. We will select one finalist for the project. The following will be considered in the selection process:
Originality and creativity.
Attention to the mission of the project.
Artist met the requirements outlined in the RFP; the proposal was submitted by the deadline.
Evidence of ability to create large-scale, distinctive work.
Demonstrated ability to maintain project timelines and budgets.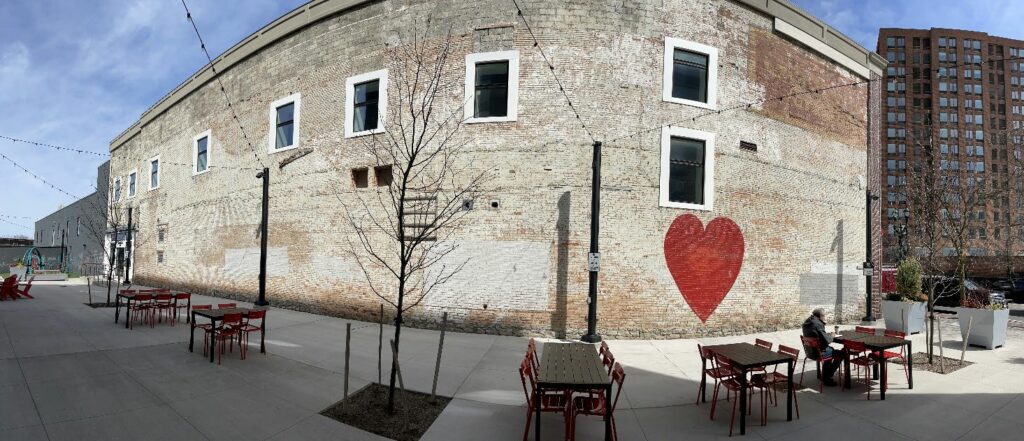 project timeline (subject to change)
April 28, 2022 | Announcement and distribution of RFP
May 16, 2022 | On-site meeting with the Salt City Market management at 2PM (please notify us if you will be attending by emailing mjacobs@allynfoundation.org)
June 4, 2022 | Deadline for receipt of proposals
June 10, 2022 | All submissions reviewed and semifinalists selected
June 15, 2022 | Interviews with semifinalists
July 1, 2022 | Artist selected and contract completed
August 15, 2022 | Art design finalized and approved
September, 2022 | Present to the Syracuse Public Art Commission for City approval and begin work on mural
October 1, 2022 | Work finalized
OWNERSHIP
The artist will retain ownership of any ideas submitted for consideration until a final selection has been made and a contract will be signed between the Syracuse Urban Partnership and the selected artist. At that time, the Syracuse Urban Partnership will obtain 100% ownership of artwork produced, in whatever stage of completion, and the artwork shall become the property of the Syracuse Urban Partnership as a
work made for hire as defined by the copyright laws of the United States. Syracuse Urban Partnership shall be the sole and exclusive owner and copyright proprietor of all rights and title in and to the results and proceeds of artist's services hereunder. In addition, artist will represent being the sole author of the Work and that all services are original by artist and not copied in whole or in part.